Feel confident while doing the things you love.
Let's get started on a stronger YOU.
Come visit us for a complimentary consultation. 
ABOUT OSTEOSTRONG 
OsteoStrong is a unique place where you can go to improve your overall health by focusing on your skeletal system through Osteogenic Loading. At the OsteoStrong South Missoula Center, we will work with you to help you experience a positive change to your skeletal system to improve your bone density, muscular strength, balance, and overall health!
At your complimentary session you'll learn the science behind OsteoStrong and experience our unique system.  Then you can try our recovery modalities including HydroMassage, PEMF (pulsed electromagnetic field), Normatec Compression Boots, and Red Light Therapies.   We look forward to meeting you and helping you make amazing progress to your bone health, strength and overall health!
SCIENCE &

EDUCATION
OsteoStrong is based on science and backed by research.  We invite you to learn more.  Click on the Science icon below to learn about the science behind OsteoStrong including research and case studies.  Click on the Introduction Educational Video below for an in-depth overview of the program.
TEAM

OSTEOSTRONG MISSOULA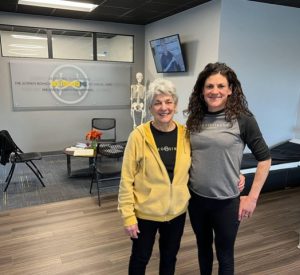 Rachel Ames MPT
Rachel Ames is excited to bring OsteoStrong to Missoula!  She has a Masters in physical therapy and Bachelors in psychology. In the early 2000's, she moved to Missoula for the active mountain lifestyle. From her time in Missoula, working as an outpatient therapist and recreating, she understands the drive her community has to be and stay active, healthy and natural as we grow and to age with confidence. After learning about OsteoStrong from her mother, and the incredible life-changing gains she and her friends experienced in such a short period of time, she felt it necessary to delve deeper into the science of OsteoStrong. After extensive research and many testimonials about the vast array of benefits that are possible with OsteoStrong, she is driven and excited to bring this opportunity to her community. She is confident OsteoStrong will help all ages, young & not-so-young break through to new unseen levels of physical performance. OsteoStrong is now another essential set of tools she has to further her passion of helping people optimize their overall health and wellbeing.
Check back for upcoming events this Spring including Strong Talks, a special Mother's Day Event and our 1 year Anniversary Celebration!
October 20th is proclaimed as Osteogenic Loading Day in Missoula!!
PRESS RELEASE————————————————————————
Many people are familiar with the condition of Osteoporosis and its impact on individuals. However, the public may not be as familiar with the term "Osteogenic Loading", which is a rehabilitative method of improving bone density and preventing bone fracture. Montana Governor, Greg Gianforte, and Missoula Mayor, Jordon Hess, have proclaimed, October 20 as "Osteogenic Loading Day", encouraging the public to follow early prevention strategies, including Osteogenic Loading, to improve bone density and prevent the devastating effects of fractures caused by Osteoporosis.
World Osteoporosis Day is observed worldwide on October 20 to promote awareness of Osteoporosis as a disease and encourage preventative strategies. According to the American Bone Health and the International Osteoporosis Foundation, one in two women and one in four men over the age of 50 worldwide will experience a bone fracture in their lifetime. In addition, 25 percent of hip fracture patients die within a year.
Experts indicate a bone-healthy lifestyle, including weight-bearing and muscle- strengthening exercises and eating a nutritious diet rich in calcium, protein, Vitamin D & other nutrients can reduce the number of fractures and the impacts of conditions such as Osteoporosis. Also important are avoiding unhealthy habits such as smoking, excessive alcohol and soda intake. In recent years, thousands of people have experienced increased bone density from Osteogenic Loading – a system of 4 devices that trigger the body's natural adaptive response to stimulate significant growth of new bone. Osteogenic Loading utilizes once-a-week, 10-minute sessions from four different positions, including the chest, legs/hips, core and spine to achieve Osteogenic Loads throughout the entire human skeleton..