Welcome to OsteoStrong Ballwin! We would like to invite you to experience, first-hand, the Ultimate Bio-Hack

®

!
ABOUT OSTEOSTRONG BALLWIN
OsteoStrong is a unique place where you can go to improve your overall health by focusing on the one thing we all have in common: a skeletal system. At the OsteoStrong Ballwin Center, we will work with you to help you experience a positive change to your skeletal system you will see and feel as you improve your bone density, muscular strength, balance, and overall health.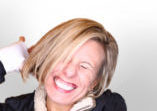 JAIME ZOGRAFOS
My name is Jaime Zografos and I am the owner of OsteoStrong Ballwin. I have been a business owner of a real estate appraisal firm for 20 years. During my 20 years of connecting with people, I learned that my passion is people! My passion is helping others change and improve their life. My purpose is helping/guiding others in improving the quality of their life. I love to help people when they do not even know what they really need. OsteoStrong came into my life at a Tony Robbins event two years after my cancer diagnosis and numerous surgeries! At Unleash the Power Within in November 2017, Tony asked us to make a decision for our life – my decision was to work more towards my passion/purpose in life, and surrender to the process. I feel an immense amount of gratitude in my life to be able to share OsteoStrong with so many people. Breast cancer pushes a lot of women into menopause, which is where women lose a lot of their bone density. Chemo treatments are detrimental to our bone density also. I am excited to help my fellow survivors as well! The environment in which our children live is different than when I grew up. The kids are less active and have so many processed food options that are not helping their bones! I am excited to help kids gain strength and athletes reach a peak performance! I am humbled that God placed me here and I will follow my passion/purpose to help as many people as I can.
CELEBRATION for OUR FIRST BIRTHDAY PARTY
August 15th, 2019  – 4:00pm – 7:00pm