Welcome to OsteoStrong Bend! We would like to invite you to experience, first-hand, the ultimate bio-hack!
Hours:
Saturday                                    8:00 AM   to  12:00 PM
Monday through Friday        8:00 AM   to   5:00 PM
ABOUT OSTEOSTRONG BEND
OsteoStrong is a unique place where you can go to improve your overall health by focusing on the one thing we all have in common: a skeletal system. At the OsteoStrong Bend, Central Oregon Center, we will work with you to help you experience a positive change to your skeletal system you will see and feel as you improve your bone density, muscular strength, balance, and overall health.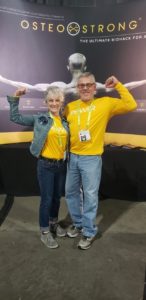 LAYNE & ANNE-MARIE AMOS
Layne Amos: Layne brings thirty-five years as a superintendent, project manager and business owner to the OsteoStrong experience. He is married to Anne-Marie and is the proud grandparent to 6 grandsons. They have lived in Crooked River Ranch since 2011. Layne is a supporter of the Tour des Chutes since 2007. "We are honored to introduce the first OsteoStrong in the Northwest to Bend Oregon," said Layne.
Anne-Marie Amos:  After moving to Bend in 1997 to raise a family and be part of the outdoor community the area offers, Anne-Marie coached the Mt. View Dance team and worked as an in-home caregiver.  She now has 6 beautiful grandsons and a wonderful husband to share the beautiful Bend area with.  Anne-Marie commented, "As a breast cancer survivor I have a great desire to give back to the community that was there for me through my recovery. Bringing OsteoStrong to Bend is my way of giving back."
Northwest Crossing Farmers Market
June 20th – August 8th, 2020
OsteoStrong is happy to be a vendor at the 2020 NWX Farmers Market. Come see us & learn the benefits

for the human body when you care for your foundation (your skeletal system). Great specials and giveaways!
Tour des Chutes
July 11th, 2020
OsteoStrong is honored to be sponsoring the Tour des Chutes during this years 2020 Virtual Ride. We will
be pledging miles as well support this amazing cause to help children and adults with cancer in Central Oregon.
Bend Health Guide Health Fair at Hollinshead Barn in Bend, OR
October 25, 2020 from 10 to 6    $5 ENTRY
Pending Phase 3 OsteoStrong will be at the Fall Health Fair in the Hollinshead Barn in Bend. We look
forward to sharing the health benefits of skeletal strength conditioning with the community.