OSTEOSTRONG

PITTSBURGH SOUTH
Welcome to OsteoStrong Pittsburgh! We would like to invite you to experience, first-hand, the Ultimate Bio-Hack

®

!
ABOUT OSTEOSTRONG PGH SOUTH
At OsteoStrong, we know a lack of options for treating bone loss leaves doctors feeling frustrated and patients disempowered. We've created a safe, science-based system to increase bone density naturally. Because more options lead to smarter healthcare decisions.
[/vc_column_inner][/vc_row_inner]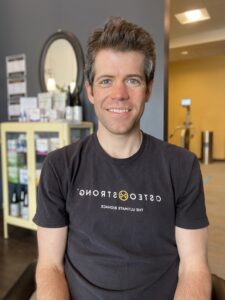 RYAN LYNCH
Ryan believes in the limitless power of the human body. An avid runner hampered by injuries in his early 30s, he couldn't accept that "this is just what happens when you get older". Thanks to his mother Dianne, he was introduced to OsteoStrong. This breakthrough technology was so effective in strengthening the bones, muscles and joints of thousands around the world that he left his job in a financial services technology company to run the first OsteoStrong franchise in Pittsburgh. Now, two years later, he and his team are on a mission to reshape how we view healthcare in America.